Before reading this post, be sure to read Down To The Next Level, Pt. 1
In this post, I want to explore further the role of the worship leader and why our churches hunger to reach a new level of worship.
I closed Pt. 1 with Jesus telling us in John 4:23 that the Father is looking for "Spirit and Truth" worshipers. The original Greek transliteration for the word worship here is proskyneō and means to kiss the hand in reverence, or to fall upon the knees and touch the ground with the forehead as an expression of profound reverence. If we want to reach a new level of worship, we must bow down.
I recently used Russell Henderson's post Worship Leader or Cheer Leader? as a devotional for my worship team, church staff, and vision team (elders). It sparked a lot of great discussion. I asked each group if they think we are reaching the level of intimacy with God that David wrote about in Psalm 139, one respondent asked, "Are we prepared to meet God on Sunday morning or are we just showing up?" That kind of brings the question back to each of us, doesn't it? Didn't Stuart Smalley (of SNL fame) help us notice that when we point a finger of blame at someone, 3 fingers are pointing back at us?! 😉
Let's first establish the source of this hunger to reach a greater intimacy with God. In the book, The Pursuit of God, by A.W. Tozer, the author helps us understand that the hunger for God originates with God. No self-effort will allow us to take credit. (John 6:44)
We pursue God because, and only because, He has first put an urge within us that spurs us to the pursuit. "No man can come to me," said our Lord, "except the Father which hath sent me draw him," and it is by this very prevenient drawing that God takes from us every vestige of credit for the act of coming. The impulse to pursue God originates with God, but the outworking of that impulse is our following hard after Him; and all the time we are pursuing Him we are already in His hand: "Thy right hand upholdeth me."
Everything starts with God and we respond. Therefore, each of us, alone, are responsible for…our response. If we believe we're going to meet with the Creator of the Universe each Sunday morning, then shouldn't we start, each day of the week, with a faith-filled anticipation that says, "Holy cow, I'm so excited to meet with YOU on Sunday, Lord!" (Hebrews 11:6) A "Spirit and Truth" worshiper longs to be in His presence day by day, hour by hour, minute by minute. (Psalm 84:1-2) It's that kind of faith that is pleasing to God. It pleases Him so much, the Bible says, He'll reward it.
So what's the reward? If you seek him, he will be found by you says 1 Chronicles 28:9. When my boys were younger, they loved playing a game they called, "Chase Dad." As you might guess, Chase Dad is just that…chasing dad all over the house until you catch him! For me, this meant perfecting the ability to leap two or more stairs at a time, sprinting through hallways, darting around furniture and over beds; doing whatever it took to avoid being caught. And yes…I was eventually caught…and would reward them with a wrestling match, lots of jumping on dad, pillow fights, and other rough-housing that Mom might not approve of. (BTW, Chase Dad is a game best played when Mom is at work.) If I included some hide-n-seek in the game of Chase Dad, that was always the best! I loved to listen to my children call out to me as they searched the house. In my silence, I was excited to have them find me. The boys never gave up…and the reward would come. And so it is with God. "…you will find him if you look for him with all your heart and with all your soul." (Deuteronomy 4:29) It would be just like God to use a child to teach me how to pursue Him.
If we would find God amid all the religious externals we must first determine to find Him, and then proceed in the way of simplicity. Now as always God discovers Himself to "babes" and hides Himself in thick darkness from the wise and the prudent. We must simplify our approach to Him. We must strip down to essentials (and they will be found to be blessedly few). We must put away all effort to impress, and come with the guileless candor of childhood. If we do this, without doubt God will quickly respond.
If the outworking of our faith (our response to his prevenient drawing) is lacking on Sunday morning, Tozer states we won't have an experience of the Divine.
"Acute desire must be present or there will be no manifestation of Christ to His people. He waits to be wanted. Too bad that with many of us He waits so long, so very long, in vain."
So, what shall we do?  Will we keep Him waiting?  Will we look to the worship leader or the worship band to get us excited about being in God's presence? Or will we arrive on Sunday morning, anticipating, expecting to join the great assembly of Spirit and Truth worshipers; filled with a longing that only He can satisfy and determined to find Him?  And will we bow our lives before Him, all of us, in profound reverence and pursue Him with all that we are? A reward unspeakably sweet awaits those who put their trust in Him!
For it is not mere words that nourish the soul, but God Himself, and unless and until the hearers find God in personal experience they are not the better for having heard the truth. The Bible is not an end in itself, but a means to bring men to an intimate and satisfying knowledge of God, that they may enter into Him, that they may delight in His Presence, may taste and know the inner sweetness of the very God Himself in the core and center of their hearts.
Excerpts From: A. W. Tozer. "The Pursuit of God." MobileReference, 2010-05-07. Check out this book on the iBookstore: https://itunes.apple.com/us/book/the-pursuit-of-god/id367791780?mt=11
Click here to find the book on Amazon.com.
Worship Leader / Songwriter Tommy Walker's worship CD "The Pursuit of God" pays homage to the profound effect that Tozer's writings had on his life.  It is an extraordinary recording!  Listening to this CD has helped me to journey to that place of intimacy with God that my heart longs for.  I know it will bless you, too.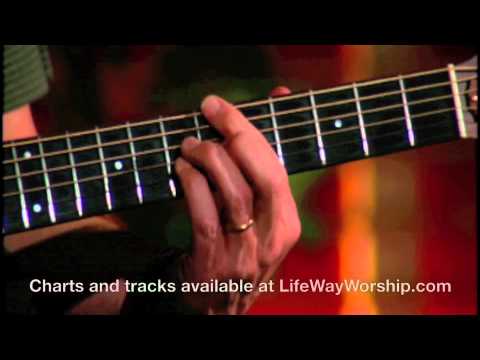 In this video, Tommy Walker sings an acoustic version of his song "Nearer" (from The Pursuit of God CD).  After he plays the song, he demonstrates how to play it on guitar.  I'm including the video on this blog post because: 1 – This song was inspired by Tozer's book, 2 – The song totally nails the topic were discussing, 3 – Tommy gives such encouraging and practical instruction for the worship guitarist, and finally… 4 – This song helps me worship God!  I pray it helps you to worship Him, too!
I invite you to share your comments below!  Thank you for visiting my blog!