Have you ever wondered if your music ministry is having any lasting impact?  My friend, Bill Stai, called me recently to tell me about a music ministry he'd started and how it might have more impact.  I was so inspired by what Bill was up to that I couldn't wait to share it with you here on worshipBOOST.
Bill and I share a love for music and ministry.  He's been both a pastor and a musician.  (Do you ever really retire from either one?  I don't think so!)  We also share a heart for prison ministry.  He's skilled in carpentry and musical instrument building.  (Bill used to make instruments for Musicmakers in Stillwater, MN.)  In fact, he built a mountain dulcimer a couple of years ago with an idea in mind that he would learn how to play the old hymns on it and perform them at Three Links Care Center.  He developed a unique modal tuning for his dulcimer and learned all the chord shapes that would allow him to play both the melody and chord accompaniment.  Over the months that followed, he taught himself how to play about 30 hymn favorites by heart.  Which brings me back to Bill's phone call…
As the his church's worship director, Bill wanted me to know that he was regularly visiting Three Links Care Center to play hymns and to share his faith in Christ.  He wondered if I would accompany him on one of his "gigs" so that I could see what he was doing.  It was important to him to make the connection between his music ministry at the care center and our church's music ministry.  Bill sees what he's doing as an extension of our church in the community.  Before the phone call ended, he asked if I might have any ideas about how he could have more impact.  I readily agreed to join him at the next opportunity.
A couple of weeks later, we met at the care center.  As we walked in, I quickly realized that Bill had developed friendships with staff and residents alike.  He knew many by their first names and they knew his.  At our first stop, Bill set down his instrument case and opened the latches.  He opened the case revealing his beautiful hand-made mountain dulcimer.  It's a lovely instrument and larger than I had imagined.  He sat down in a chair with the instrument on his lap.  Connected to the dulcimer was a small hand-made strap that went around his waist to make sure it stayed on his lap.  He placed a plastic thumbpick and two metal fingerpicks on his right hand and began to play.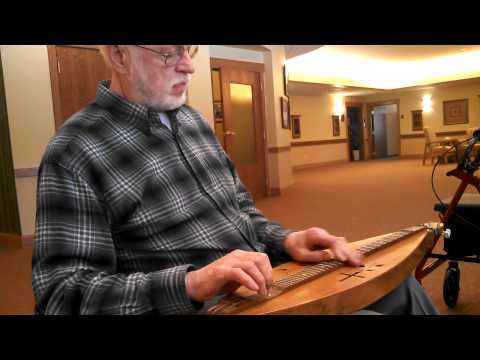 What happened next was remarkable.  There was a resident that was sitting with her back to Bill.  As he began to play, she turned her head towards the music and said, "That's so beautiful.  May dad plays that song all the time.  I can hear him singing."
I accompanied Bill to another location at the care center.  When we arrived, again he was greeted warmly by the staff and residents.  There were just 3 people in the living room when he began to play, but soon the sounds of Bill's mountain dulcimer had the room filled.  I watched an amazing transformation take place on the faces of seemingly inattentive residents as they heard the familiar melodies.  Eyes opened and sparkled.  Some began to sing.  At one point, Bill paused and shared his faith.  He asked the question, "Why was Jesus so scared (to the point of sweating blood) in the Garden of Gethsemane."  [See Luke 22:44]  Bill reminded us that Jesus felt completely abandoned as the sin of the world was placed upon him and was separated from his father in heaven.  He shared how Jesus experienced complete abandonment and loneliness.  (A concept that his audience is altogether too familiar with.)  Then Bill shared the hope that faith in Jesus and his saving work on the cross can give us complete assurance that we will never, ever be abandoned by God.  And then Bill resumed playing hymns like The Wonderful Cross, Amazing Grace, and Beautiful Savior.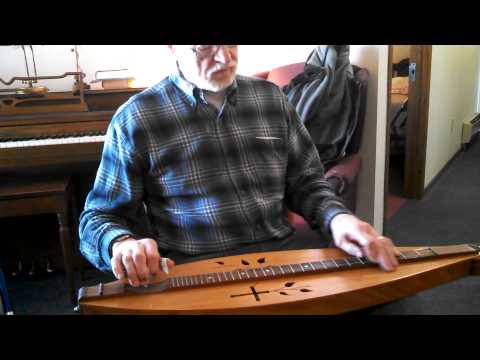 As I walked back to my car, I couldn't help feeling my heart lifted along with the residents of Three Links that were touched by Bill's visit.  I was drawn by the simplicity of his music.  I was impressed by the relationships that he had built with so many staff and residents.  I was encouraged as he shared his faith with authenticity.  As a musician, I respected Bill for the amount of effort he put into preparing himself – building his own instrument, figuring out an altered tuning, learning all the chord shapes and memorizing the music – I was so inspired by his humble offering.
Remember how Bill asked me to give him suggestions on how to give his ministry more impact?  Bill, my friend, you're doing just fine.  Actually, I think I learned a few things from you.